I know I haven't posted on here for awhile, but I recently took part in a designer contest. You can see my posts on that
here
and
here
. You can view any of my other scrapbooking related content on my Seeds of the Heart blog,
here
. I am also doing a week in review challenge... which I have, unfortunately not been updating much of lately. Oops. So, I'll have to do a 'mega post' on that yet... probably on my Seeds of the Heart blog, since that is my main one, but I'll post a link to it here as well. Perhaps I'll just give them all a label and go from there. That might be beneficial.
But I digress.
The reason I am here today is to promote my new store at Ivyscraps! Yup! I have a store. I got 8th place in the contest, and as a result I was asked to sign on for a 6 month contract with IvyScraps. I'm not sure what will happen after the six months is up, but for now I'm contributing to the monthly mega kits (just sent in my contribution for the May kit last week... it's a good-er), and trying to still keep doing some of the challenges as I attempt to continue 'catching up' in my scrapbooking. Thus far, I have 6 kits in
my store
. Here they are... and you may recognize the first 5, although they have been revamped and reworked before putting them in the store. ;)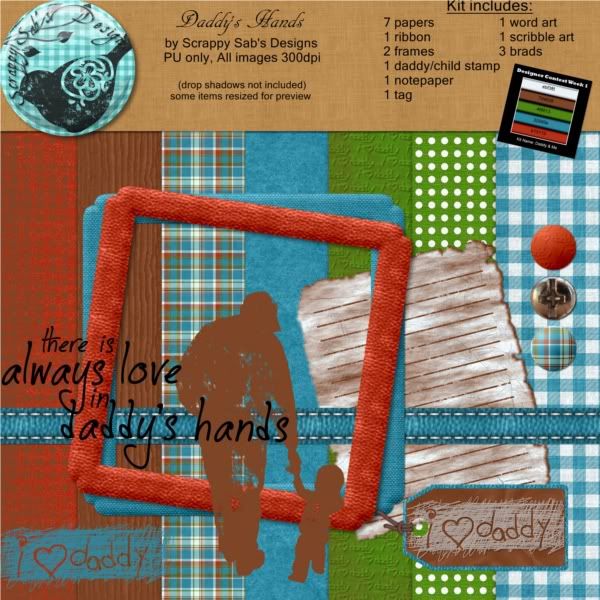 This kit is a bit bigger than the original from the contest... with 7 papers and 11 elements, it's a nice mini for scrapbooking those masculine pages... kids spending time with daddy or grandpa, working outside on vehicles or even day to day things. It's a fun kit with a 'handsome' edge.
Spring is here, and what better way to celebrate than with these fun little creepy crawlies? These bugs won't bug you, though, as they are super cute... perfect for kids pages, spring photos, even baby pictures. Add a bit of whimsy to your scrapbook with these colorful critters. This kit has also been revamped from the contest, with 6 butterflies (2 types of each of 3 colors), more ribbons, an extra flower, bird, sun, and bee, as well as 7 papers (vs. the original 4). I'm looking forward to putting up a coordinating kit later with many more papers and elements... I've been working on it lately, and I'm excited with how it's turning out. :)
Another revamped kit from the contest, this one has an extra 2 papers, ribbon, and button from before. I also added a 'string' tie on to attach to the buttons as needed, to make it look tied on. It can be used on it's own as well. This kit is great for those heritage pages, and it has that country feel to it. Personally, I love that large flower print paper... it took a long time to make, and I think it turned out great!
Yes, this one was also revamped from the contest. I added 2 papers and a nest of eggs to the fun. I love the spring feel to this kit, and it works great for Easter pages. I also think it has a bit of a fresh feel to it, don't you? And definitely a little bit 'country'! I couldn't help but think that this will be perfect for scrapping my daughter playing in puddles on the farm.
My first full sized kit. At least, that's what I'm calling it. I'm not really sure what the line is between a mini, a full size, and a mega. But with 14 papers and over 30 elements... full size it is. The above pic is of the elements... there is one below of the papers.
This kit is glamorous, bold and romantic. It's great for date nights, girls nights, or just for fun.
I really modified this kit from the original in the contest. I made the floral paper and satin one into 3 different colors each. I added another 2 plaids to the first, made 3 lacy papers, and put another heart paper in with the embossed one. As for texture... they've all been revamped. I added plenty of new elements as well, including frames, swirls, and a border. There are more ribbon colors and fabric elements as well.
DigiDes hosts the
color challenge
over at ivyscraps, and this week's colors inspired her to do a rainbow kit... you can pick it up for free for participating in the color challenge when you click the link. I thought the colors reminded me of summertime, and couldn't help but make this fun kit full of things you might find at the fair. Mmm... it's making me hungry (I haven't had cotton candy in ages). My personal fave is the train track frame. I have so many ideas floating around my head for more papers and elements for this kit that I may have to make a 'sequel', ha ha. Otherwise known as an add on. This will no longer be for free as of May 1st, so get it while you can!
Well, there you go! Six kits for sale! Wow... I've been busy. Now if only I was caught up on my scrapbooking instead of still working on June 2010...